Description
Car Inner Bearing Puller Gear 3-jaw 2-Jaw Extractor Automotive Repair Tools Kit Labor-saving 3-Jaw Car Separation Bearing Device
Dropshipping Wholesale Price Personal Customization Freeshipping Fast Delivery Sending Within 24 Hours
Add Whatapp /Skyppe 8618824295352
I got this puller to remove a pilot bearing from a small block chevy. This was a needle bearing, not a bushing that I was removing. This inexpensive 3 arm puller worked instantly with one try. It took less than a minute to get the bearing out.
★★★★★Jay — This puller works!
Verified Purchase Nov. 27, 2021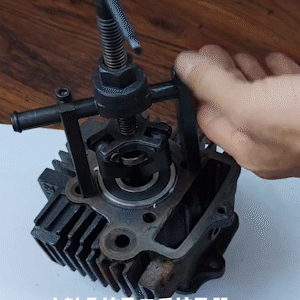 Main Feature
3 Jaw Gear Puller removes pilot bearings, pump bearings, brushings.Each of the three 3-jaw gear and bearing pullers can be reversed to pull parts from either the inside or outside.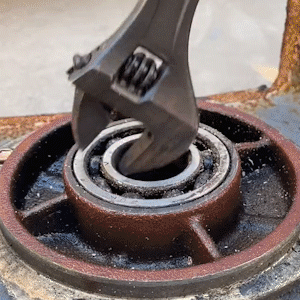 Tip: When using this tool, put a screwdriver or pliersacross the middle of the 3 jaws, you can save more effort and better fix the shelf to protect the bearings can being perfectly removed.
Large bearing range & Labor-saving
Bearing Puller uses in removing all sleeve-type bearings from diameter 0.6″ to 1-1/2″ (16mm-38mm). Structure design,gently turning the small wrench can produce a strong pull force. And it does not disassemble the inner and outer rings of the bearing.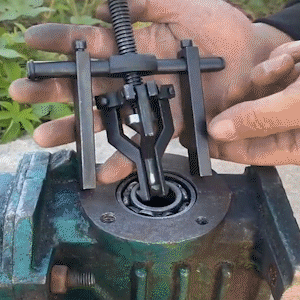 Wide Compatibility
Puller Set is ideal for Automotive flywheel, Motorcycle wheel, Bicycle wheel, Pump bearing generator bearing, Machine bearing, etc.
High Quality
3 Jaw Extractor is corrosion-Resistant Black Oxide Finish. Forged and Heat Treated Steel Jaws. Drive screw is covered by phosphating, which provides maximum strength and longevity to the gear puller.
Long-term Use
3 Jaw Design Applies Even Pressure Preventing Damage to Bearings. The overall use of chromium-vanadium just manufacturing, high hardness, good toughness, strong and durable.
Note: Please keep the balance when using so as not to damage the hook bar. If the bearing is rusted, it cannot be used.
Specifications:
Material: carbon steel

Color: black

Size: 200x135mm

Wire rod length: 175mm

Bar length: 125mm

Arm length: 86mm
Package includes:
1x 3-Jaw Inner Bearing Puller Tool
or
1x 2-Jaw Inner Bearing Puller Tool
Guarantee
Fast Shipping >> All orders will be shipped within 1 business day!!
Quality Certification >> High Quality. Provide to refund within 30 days.
Original Product >> Original Authentic. Provide 24-hour customer service.
Q1. Can you offer bulk delivery via a CSV file (Excel file) if we have too many orders?
A1: Yes, although we can also use APIs to connect to your shop (Shopify, Facebook) to make the process very easy for you.
Q2. Can you invoice an entire bulk agency shipment order through Alipay in one go?
A2:Yes, we can accept Alipay/PayPal, you can contact our customer service.
Q3. Do you have a minimum order quantity for all the products you offer?
A3: We do not have a minimum MMQ.
Q4. Can we customize our packaging and labels, or logos?
A4: Yes, we can create your branded packaging, labels and logos.